Classic Full Service Cut and Shave on Maui
Monday – Friday: 9 am – 5pm
Kai Ani Village
1367 S Kihei Rd #3-105,
Kihei, HI 96753

Monday – Friday: 9 am – 5pm
Kai Ani Village
1367 S Kihei Rd #3-105,
Kihei, HI 96753
The Barber Shop, A Time-Honored Tradition
For as long as hair has grown there has been a need to snip it, and few things put a spring in your step like a fresh cut. At Legacy Barber Shop we strive to provide the very best service, keeping our patrons looking sharp and ready.
Quality Craftsmanship
Precision cutting techniques, as well as attention to detail, are key elements in achieving your result desired. Whether you're looking for a close modern cut or more classic style, the barbers at Legacy Barber Shop know just how to get you the look you want.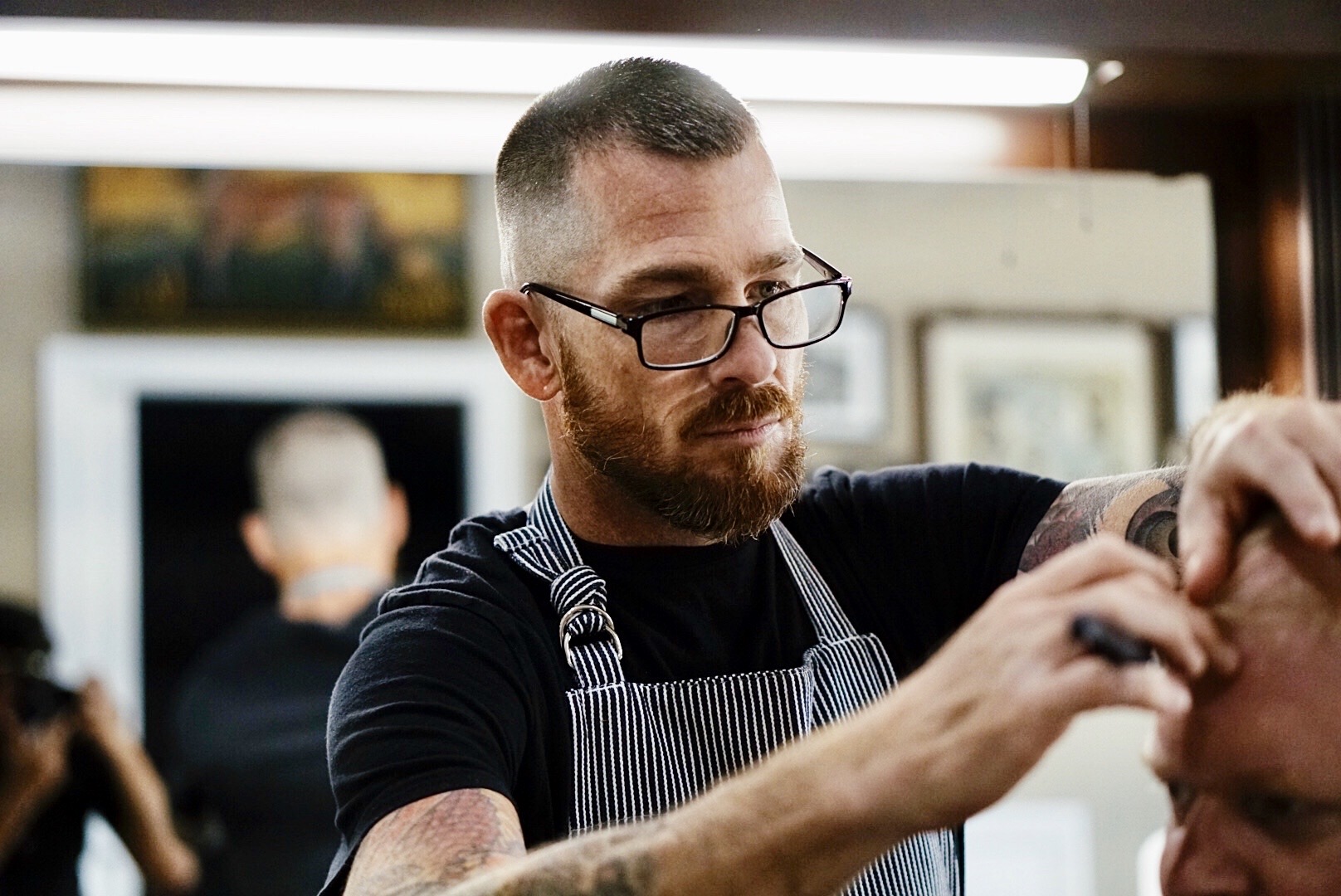 It pays to look well.
Get the service you deserve from the barbers at Legacy Barber Shop.

Classic Short Scissor Cut –
$40
From a short crop to longer contoured styles. Light taper or lined finish.
Simple Cut –
$30
A single clipper length all over and a line-up.
Razor Head Shave –
$45
Hot towel service, two passes with effleurage, and Bay Rum finish.
Deluxe Cut –
$45
Skin and bald fades, flat tops, hawks, design work, etc. Razored or lined finish.
Beard and Mustache Service –
$40
Scissor and clipper shaping, hot towel service, razor edging, and shave. Bay Rum finish.
Straight Razor Shave –
$45
Face wash with hot towel service. Bowl and brush creme lather with two passes and effleurage. Bay Rum finish.
Legacy barbershop is exactly what I was looking for since moving to Maui. Colin and Kayla have not only created an unrivaled atmosphere and presence but are one of my favorite couples. Two truly genuine personalities who are also very talented at their craft. You have to check this place out!
– Nathan F. –
Maybe the best haircut I have ever had! I'd recommend this business to everyone I know. Great environment with the friendliest group of professionals. Collin and Shadrack gave us great haircuts. The prices are too low for the service we received. Thank you so much!
– Thomas M. –
Amanda is great. Excellent haircut and fun to chat with. I got three compliments on my haircut that afternoon! And the Legacy Barber Shop has a cool vibe. Will be back!
– Christopher C. –
Amazing experience! My brother and I came in for beard service for my wedding and Colin and Amanda took care of us. Such a relaxing, welcoming, and pleasant experience! I recommend this shop to anyone in Maui.
– Adrian T. –
I know when I get a haircut here that it will be exactly what I want. They do a great job and are very professional! Kayla has been my go to, and I'm never disappointed. Thank you Legacy Barbershop!
– Clint P. –

Kai Ani Village,
1367 S Kihei Rd #3-105
Kihei, HI 96753
Monday – Friday: 9 am – 5 pm